Life just cannot continue without your cell phone, can it?

The problem is that your battery keeps losing its charge because you are using your phone all day right? This is a bigger problem if you are outdoors with no power for recharging.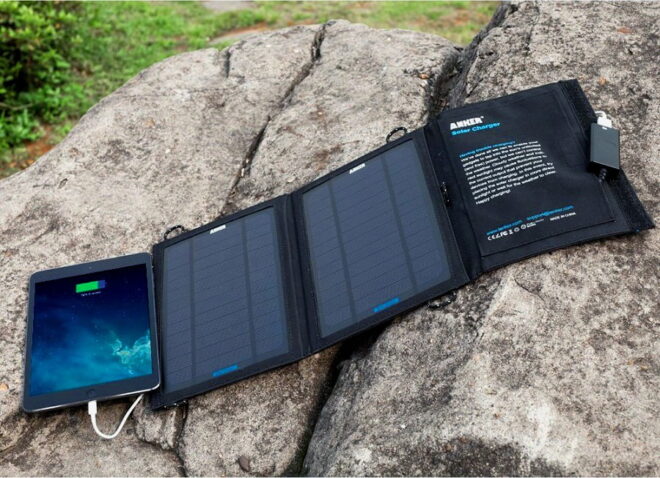 So we went on a mission to find the best solar battery chargers and bring this all together in a single review. We have identified the 5 best solar chargers on the market and we have given them all a good test.
So what you will find here is a "warts and all" solar battery charger review. Nothing is perfect in life right? Well that certainly includes solar battery chargers. They are certainly not all made equal as you will discover as you read through.
Best Solar Battery Charger 2017
We looked at a lot of solar battery chargers and dismissed a number on quality and price issues.
These certainly made it to our list of the top 5 best solar battery chargers 2017:
The first thing to understand about the Anker 21W charger is that it does not store power. It is either on or it is off. The charger has a maximum output of 3 amps and it has two USB charging ports which are rated at 5 volts / 2.4 amps.
You don't need to plug this charger in anywhere. Just expose the panels to the sun and it will start to work. It has three solar panels included in a foldable case and you can connect a phone or other device that requires charging via the USB ports.
A lot of solar battery chargers will only work from the power of the sun but the Anker 21W can work if it is subjected to the light of a lamp. It is actually possible to shine a light at the solar panels and your devices will charge.
Having 2 USB ports you will be able to charge 2 phones (or other devices) at once. The speed that the Anker 21W will charge at is directly related to the amount of light that the solar panels are receiving. It takes around 4 hours to charge an iPhone or Samsung Galaxy with uninterrupted sunlight.
When we tested the charging speed we found it to perform really well. We tried charging two smart phones with the solar panels in direct sunlight, and the Anker 21W did a really good job. We also tried to charge two tablet devices at the same time. They took longer than the phones (because they require more charging power) but the time was still impressive.
The Anker 21W is well designed and pretty large measuring 11.1 inches in length by 6.3 inches wide and is 1.1 inches thick. It is reasonable heavy at 14.7 ounces. Despite its size and weight you will have no problem carrying this solar battery charger in your hands.
When you think about it, you are not going to hold this solar battery charger in your hands while it is charging. You will be laying it out somewhere so that it receives maximum sunlight and can charge at the fastest rate.
If you are travelling around with a backpack then you can simply hook the Anker 21W to the back of your bag and it will catch the sun's rays as you are walking around. So you can charge your phone when you are on the go.
In functionality terms there really isn't much to report. You do not turn this solar battery charger on or off and the only indicator LED's are on the USB hub which tells you that the solar panels are receiving sunlight, and you can charge your devices.
Do you need any more than that? Not really!
The Anker 21W is protected with rugged polyester which offers good protection in most situations. Because this solar battery charger is a reasonably simple device there isn't a great deal to protect except for the solar panels and the USB port hub. It protects these things well.
Folding up the Anker 21W and you will see that it protects the USB port hub really well. It will handle the odd specs of rain, but it is not claimed to be water resistant so you need to be careful. You can place your phone underneath the polyester cover when charging for further protection.
This is a reliable solar battery charger when there is sunlight around. As you can imagine, when there is fading sunlight or no sunlight then it will not charge. It recovers pretty well from lapses in sunlight.
The Anker 21W is a durable, reliable and high performing solar battery charger which provides an awful lot for the money.

Pros
Two USB ports
Durability and flexibility
Charging speed and power
Cons
Interruptions in light temporarily stop charging
This is a 4 solar panel battery charger with an output of 28 watts. It is not a solar bank and will not store any charge, so like the Anker 21W it is either working or it is not. It produces a 5 volt / 4 amp maximum output and has 2 USB ports with 2.4 amp outputs.
It is more powerful than the Anker 21W and it has an ammeter which will display the charging amps.
It is more expensive though, and the usefulness of the ammeter is debatable especially as you will be leaving this solar battery charger in the sun to charge your phone etc.
The BigBlue 28W folds up and is secured with a tough Velcro seal. When you unfold it there is a pouch on the right hand side where you will find the ammeter and the USB ports. There is a zipped pouch where you can add your smart phone when it is charging – pretty neat. If you are charging something larger than a phone it won't fit in this pouch.
A word of caution about the zipped pouch – if you are in a really hot climate then leaving your phone for hours in the pouch can cause it to overheat. This is not a good situation. The reason is that the pouch is black and it will absorb all of the heat from the sun.
The two USB ports are protected by rubber grommets to stop water ingress. It has to be said that the ports can be a little tricky to access underneath the ammeter. The ammeter will only display the ampere output when a device is connected to a USB port.
In all of our tests of the BigBlue 28W we were unable to reach the maximum 4 amp output no matter how well we positioned the solar battery charger in the sunlight. This was a bit frustrating. This solar battery charger was able to charge a Samsung Galaxy and an iPhone (individual tests) at the rate of around 22% an hour in the best sunlight.
The manufacturer's claim a solar efficiency with the BigBlue of 21.5% to 23.5%. This solar battery charger weighs around 17 ounces, and being a 4 panel foldable it is fairly large with a height of 11.1 inches, a width of 6.3 inches and it is 1.3 inches thick. It is very easy to fold up the solar charger and not a problem to carry around.
This is a durable product which has a polymeric fabric covering for protection. You can lay it on the ground or attach it to your backpack (carabiners are supplied). In the shade it didn't perform well, but the return to charge time after a sunlight interruption is good.
This is a well made solar power battery charger that does everything that you would expect. With 28 watts of power it didn't really deliver anything more than most 21 watt models.

Pros
2 year warranty
2 USB ports
Good design and build quality
Cons
Power advantage not evident
It is claimed by the manufacturer that the Wildtek SOURCE 21W Waterproof Portable Solar Charger Panel has ultra high efficiency solar cells that provide very good charging capacity. In our tests the unit did perform well but we were never able to get to the 21 watts output that they claimed.
This solar battery charger did perform well when it came to charging smart phone batteries. It was able to charge iPhone and Samsung Galaxy batteries faster than a lot of other units that we tested.
The compatibility was good too. We charged the iPhone 6 and 7 (and the Plus models), the iPad Pro, the Air 2, the iPad mini, the Samsung Galaxy S6, S7, S8 (including Edge models) the Galaxy Note 4 and 5 and a range of cameras, GPS devices and others.
This is a well built solar battery charger that is both dustproof and waterproof. The manufacturers claim that the Wildtek SOURCE 21W Waterproof Portable Solar Charger Panel is fully waterproof and can withstand rain, snow and ice. Even the USB ports are waterproof and have an IP65 rating. We never submerged the unit fully in water as we didn't want to go that far.
It is fairly lightweight and compact for a three solar panel battery charger. It weighs just 2.1 pounds and is 12.4 wide by 6.6 inches high and 2.2 inches thick. There is a built in stand with the Wildtek SOURCE 21W Waterproof Portable Solar Charger Panel and it is very easy to pack it away and unpack it when you need to charge your devices.
Within the Wildtek SOURCE 21W Waterproof Portable Solar Charger Panel pack you will not just receive the solar battery charger but also a USB to micro USB charging cable and two carabiners so that you can attach the product to a backpack or hang it up somewhere so that it is in the sun.
If you want an efficient solar battery charger that will charge your smart phones and other devices quickly then you need look no further than the Wildtek SOURCE 21W Waterproof Portable Solar Charger Panel.

Pros
2 USB Ports
Good smart phone charging capabilities
Waterproof
Cons
Could not get near 21 watts
Instructions are poor
This solar battery charger has an impressive charging efficiency range of between 21.5% and 23.5% while others struggle around 15%.
It is one of the most popular solar battery chargers around, and it usually very competitively priced. If you just want to charge your smart phone battery then this product is ideal. For anything larger it will struggle a bit.
It is another charger only solution and not a storage bank. It will only charge your devices when the two solar panels are exposed to sunlight.
There are two USB ports and they have an output of 5 volts, 2 amps and 15 watts which is pretty impressive. With sunlight interruptions the BlitzWolf Solar Powered Panel Phone Charger was pretty quick to resume charging.
The manufacturer claims that this solar battery charger will charge smart phones at their normal charging speeds. Because it is less powerful than other models it does take a bit longer to charge a dead smart phone.
The BlitzWolf Solar Powered Panel Phone Charger is capable of charging at 5 volts, 9 volts and 12 volts and the maximum output current is 2.4 amps.
Its automatic recharging feature after sunlight interruption is better than a lot of the higher priced solar battery chargers.
This solar battery charger has a resilient PVC case that is rainproof. The solar panels are also water tight so it will be fine with most outdoor pursuits. Don't fully immerse it in water though or you will experience all kinds of problems.
The BlitzWolf Solar Powered Panel Phone Charger comes with dual port Power3S technology, which enables this solar battery charger to recognize the device or devices connected and provide the best mix of charging current and speed of charge.
It weighs in at just 12.3 ounces and because it only has two solar panels it is easier to carry around than other models. It measures 11.4 inches in height, 6.3 inches in width and is only 0.8 inches thick.
If you want an inexpensive solar battery charger that performs pretty well then the BlitzWolf Solar Powered Panel Phone Charger could be just right for you. It doesn't have the power of the more expensive models but it performs well with what it has.

Pros
2 USB ports
Good charging performance
Affordable price
Cons
Charging not as fast as with the more powerful models
Some phone compatibility issues reported
This is the final solar battery charger to make our list. Again it is not a charge bank so there is no storage of power. It does have two USB ports so you will be able to recharge two devices at once.
You will need direct sunlight to make the RavPower 16w Solar Charger work in the most efficient way. It will not function in diffused sunlight.
In charging tests this unit was impressive. It was able to charge a phone on 50% charge up to 75% charge in around 30 minutes.
What we did notice though, was that the solar panels became pretty hot after this 30 minute period in the direct sun. The built in pocket to hold your phone is not a good idea as this will make your device overheat.
The company claims that the RavPower 16w Solar Charger has a solar efficiency of around 23.5% and this enables a delivery of a maximum 16 watts of power. In our tests we were unable to achieve the 16 watt maximum output but we did come pretty close to it.
There are three solar panels with this solar battery charger and it weighs around 14 ounces. It is more compact than other solar battery charges with dimensions of 10.1 inches high, 7.6 inches width and around 1 inch thick.
The RavPower 16w Solar Charger uses iSmart and Smart IC technology tp identify devices that connect to it. It will then adjust the power output so that it ideally suits the device. This should lead to faster and more efficient charging.
The surface of this solar battery charger is nylon and there is a degree of weatherproofing. It is supposed to be water resistant, but don't expect it to work again if you fully submerse it in water. If you spill a little water on the nylon surface you should be OK. It should be able to handle light exposure to rain as well.
The RavPower 16w Solar Charger will provide you with the power that you need to charge one or two smart phones relatively fast. It does need direct sunlight or it just won't work, which means that it is not as resilient as other solar battery chargers.

Pros
2 USB ports
Fast charging considering the power output
Cons
You don't know if the solar panels are working as there are no LED lights
Some phone compatibility issues reported
Summing Up
All of the solar battery chargers that we included in our top 5 list will perform the function of recharging your smart phones and other devices.
The solar pack is a different option as it has the advantage of storing power to use later on. The recharging times were pretty slow for the pack though.
You will not go wrong with any of the models that we have included in this solar battery charger review. If you have the budget then we highly recommend the Anker 21W charger as you certainly get what you pay for. We particularly liked the fact that you could use other light sources and not just direct sunlight.
A solar battery charger is a great idea if you travel around a lot or enjoy outdoor pursuits such as hiking and fishing.
As long as there is sunlight your smart phone will have battery power. And that is something that we can all be grateful for.