This article has been updated with the prevailing opinions as of October 2023.
If you have ever wanted lights in your garden you will know that installing conventional lighting can be a real headache.
Why?
Because you need to have power run out to your garden and you will have to pay a qualified electrician to do this for you and that will cost money.
Best Choice
Good Pick
Good Price
Premium Choice
Also Consider
Product
GIGALUMI Solar Lights Outdoor
voona Solar LED Outdoor Lights
LED Solar Pathway Lights Outdoor
MAGGIFT LED Solar Garden Lights
Material
Stainless Steel & Glass Lampshade & Aluminum Ground Insert
Power Source
Solar-Powered, Battery-Powered
Best Choice
Product
GIGALUMI Solar Lights Outdoor
Good Pick
Product
voona Solar LED Outdoor Lights
Good Price
Premium Choice
Product
LED Solar Pathway Lights Outdoor
Material
Stainless Steel & Glass Lampshade & Aluminum Ground Insert
Power Source
Solar-Powered, Battery-Powered
Also Consider
Product
MAGGIFT LED Solar Garden Lights
It can also be a major disruption to your garden!
So what is the alternative? Well in this solar garden lights review we will show you why they are becoming more and more popular.
The outdoor solar Lights that are available now are so much better than the previous versions. The old solar lights could only emit a light that was pretty dim, and they were not very reliable at all.
All this has now changed and there are some great garden solar lights available that have powerful LED's that produce a very bright light. LED's are a lot more efficient than conventional light bulbs, as they hardly create any heat when they are working which means that you need less power to make them work.
It is easy for you to install solar lights in your garden. All you need to do is to position them so that they receive some direct sunlight to make them work. There are no requirements for the installation of power cables.
The biggest problem you will have is deciding which of the many outdoor solar Lights that are on the market today. So our review will help you by narrowing the lights available down to the best five.
All of the solar lights that made our top five list did so on the basis of performance and price. You will see a review of each product (with customer pros and cons) and you will have all of the details you need to decide which of the five you should purchase.
We looked at quite a number of garden solar lights when we were deciding on our top 5 list. After our testing, we have formulated the best five solar lights for your garden.
List of the Best Solar Garden Lights 2023
   

1. Solpex Solar Pathway Lights Outdoor 
If you are looking for color mosaic outdoor solar Lights then the Solpex Solar Lights are a very good choice. You can use them as elegant pathway lights, for your driveway or as an attractive feature in your yard.
Made from stainless steel they are very durable and hardwearing. This is a new 6-pack from Solpex and each pack contains a yellow, blue and purple lampshade. These lights really do look good when illuminated in the dark.
When you get your Solpex Solar Lights you will need to go through a small piecing-together exercise but this is really easy. Obviously there is no wiring involved and all you have to do is to unscrew the cap of each lamp and then install them into the soil.
These garden solar lights performed very well in direct sunlight and averagely in poor sunlight as you might expect. The Solpex Solar Lights use an AA size rechargeable battery which is solar charged. After achieving a full charge we were able to get around 9-10 hours of continuous light.
There is good weatherproofing with these lights and they can withstand all kinds of conditions including heavy rain, snow and warm and sunny weather. The Solpex Solar Lights have an IP44 waterproof rating. The product comes with a good warranty that provides for a replacement up to a year or a refund.
The solar panel specifications are 2 volts and 40 milliamps. The rechargeable batteries supplied with the lamps are Ni-MH 1.2 volts producing 200 mill ampere hours. Each lamp measures 15.35 inches in height by 2.95 inches in width. The lamps only weigh 7 ounces each.
The Solpex Solar Garden Lights are very reliable and work well when they have enough sunlight to fully charge the batteries. The build quality is very good and they really do look pretty when illuminated. The only problem is that they may not be bright enough for some people.
Pros
"These lights look really beautiful" – a lot of customers commented on how lovely the lights looked when illuminated in their yard or driveway. They were particularly impressed with the mosaic effect.
"These lights are well made" – purchasers were impressed overall about the build quality of the Solpex Solar Garden Lights. A few customers were very happy that glass was preferred to cheap plastic.
"The battery charges well even when it is cloudy" – a few customers stated how impressed they were that the batteries kept on charging even if the weather was cloudy and there was not much sunlight. One customer said that the batteries even charge enough when it is raining to provide a few hours of light during the night hours.
Cons
"The lights are fairly small" – there was one negative comment about the Solpex Solar Pathway Lights being too small. This was certainly not the viewpoint of the majority of people that had purchased the lights.
"They lights need to be brighter" – there were a couple of comments about the LED's needing to be brighter with this product. Most of the customers were satisfied with the brightness level though.
   

 2. Voona Solar LED Outdoor Lights

It may be that you are looking for more than 6 outdoor solar Lights and if this is the case then you should consider the Voona Solar LED Outdoor Lights. These come in a pack of 8 and can be used as landscaping lights for pathways, patios, driveways and gardens.
Again these are well made outdoor lights, constructed from stainless steel they are very strong and durable. The lenses on these lights are plastic and not glass, but they do look authentic. When these lights are illuminated they create a star pattern, sun like effect at ground level which looks pretty cool.
You only have one color choice which is silver and white. They do look pretty elegant though, and there is something to be said for making all of your garden lights consistent. The solar panel in these lights will charge an AA Ni-MH battery during the day so that you can illuminate the night sky for around 8 hours.
Warm white LED's are used and these have a six-lumen output and are eco-friendly. The installation of the Voona Solar LED Outdoor Lights is really easy – you just need to push them into the soil. The lights will automatically illuminate during the night and switch off automatically at sunrise.
The AA batteries are 500 mill ampere hours and come pre-installed. The dimensions of each light are 15.83 inches in height by 4.72 inches wide. Each light weighs less than 6 ounces. The Voona Solar LED Outdoor Lights are weatherproofed to withstand the elements. Rain, snow, hail or sunshine and the lights will keep on charging.
Like all garden solar lights, the Voona Solar LED Outdoor Lights will charge better when they are exposed to direct sunlight. In cloudy conditions then the batteries will still charge but you will not get many hours of light during the night.
The Voona Solar LED Outdoor Lights are a good option if you are looking for a single-color light set that put out a reasonable amount of light during the night hours. The batteries will certainly charge well when the solar panels are in direct sunlight and the sun-like pattern is impressive.
Pros
"The lights were very easy to put together and install" – a number of customers said that they were happy with the assembly and installation process with the Voona Solar LED Outdoor Lights.
"Bright and beautiful" – the majority of customers were satisfied with the brightness of these solar garden lights. People thought that the star pattern made by the lights was good and that overall the lights were "pretty".
"They are very sturdy lights" – quite a few reviews were about the good build quality and the sturdy look and feel of these lights.
"Last for a number of hours" – customers liked the fact that they got at least six hours of light at night when the batteries were fully charged.
Cons
"Only two hours of light" – a few of the customers were unhappy with the amount of time that the lights were on in the dark. One customer said that they only got two hours of light from a fully charged battery. This was not the general viewpoint.
"The performance has faded" – a few negative comments about the Voona Solar LED Outdoor Lights working well to begin with and then fading in performance as time went by. Again there were only a few comments in this regard.
"Cheap-looking lights" – a handful of customers felt that the lights were cheap-looking and would not last very long. This was in contrast with the majority view.
   

3. SolarGlow Stainless Steel LED Solar Garden Lights

These garden solar lights are made from stainless steel and produce a bright white light. They will output up to 15 lumens and they come in a pack of six. These are certainly some of the brightest garden solar lights that we have come across.
The idea with these lights is to beautify your yard or driveway (or anywhere outside) and also make the area safe at night. They have good weatherproofing and are resilient to snow and ice, hail, rain and warm sunshine.
Installation is really simple with the SolarGlow Stainless Steel LED Solar Garden Lights. You just take them out of the box and then push them into the ground. They are pretty durable, but if the ground is hard it is best to make a hole first.
Like all outdoor solar Lights there is a battery inside the light which is charged by the solar panel. The lights performed well in direct sunlight giving around 8 hours of lighting at night. When the weather was overcast the batteries still got charged but the number of hours of light was reduced.
The SolarGlow Stainless Steel LED Solar Garden Lights have a rugged construction using ABS plastic and have been built to last. The lights are fully sealed so that they will not be susceptible to moisture ingress. The manufacturer offers a lifetime replacement guarantee with these lights.
Once you have installed the lights let the solar panels charge the batteries and then when night falls the lights will automatically illuminate. As soon as dawn breaks they will automatically switch off and use the sun's power for recharging the batteries.
Each light weighs just over 9 ounces which is heavier than some of the other solar lights but they are made from sturdy materials. The dimensions are 15 inches by 4.9 inches and they are silver in color with a white light.
The SolarGlow Stainless Steel LED are well made and give off the brightest light of all of the solar garden lights that we have tested. They performed well during our tests and are a good choice.
Pros
"Very bright solar lights" – quite a few customers were very happy with the brightness of these garden solar lights.
"The quality is good" – customers said that they were happy that the posts for these lights were made from stainless steel and not plastic.
"Assembly and installation easy" – most purchasers felt that the SolarGlow Stainless Steel LED Solar Garden Lights were easy to assemble and install in their yards and driveways.
"The company stands by their product" – the lifetime guarantee was very well received by a lot of buyers. That felt that the company really stood behind their product.
Cons
"Lights do not stay lit for long" – there were a few complaints about how long the lights stay lit after the batteries had charged all day. This was not a common complaint.
"Stopped working in the rain" – these lights are supposed to be weatherproof but one customer said that his lights stopped working when it rained at night. Nobody else made a remark like this.
"They don't work anymore" – a small number of purchasers claimed that their lights stopped working after a short time. This was not a commonly held view.
   

 4. LED Solar Pathway Lights Outdoor 

With a choice of three colors which are classic black, upscale silver and chic copper you should be able to find LED solar pathway lights outdoors that will complement the style of your garden or driveway.
These outdoor solar Lights will display a star-shaped shadow on the ground when they are illuminated and this looks very appealing. The lights are reasonably bright as well and do a good job providing the extra visibility required at night.
There is a pre-installed, 300 mAh NICD rechargeable battery rated at 3.2 volts. The solar panel in each light will charge the battery and on full charge you will get around 8 hours of light during the night. We got at least 7 hours with a fully charged battery.
The LED solar pathway come in packs of 4 lights. Each light is 14.4 inches by 2.3 inches. They are made of resilient stainless steel and glass lampshades and aluminum ground insert.
The LED solar pathway outdoor Lights are water and corrosion-resistant and will withstand extreme weather conditions such as heavy rain, snow, hail and hot sun. These are budget solar garden lights and they might not stand up to the test of a heavy snowfall.
Installation is very easy as with other garden solar lights. There is a switch for "automatic" and you must set this so that the lights will illuminate in the darkness and switch off once the sun begins to rise.
Overall the LED Solar Pathway Outdoor Lights performed fairly well and a good lower-cost alternative.
Pros
"Lights produce a warm white glow" – people were happy in general with the warm white glow that these solar lights produced. There was certainly enough light there for enhanced visibility at night.
"Usually last throughout the night" – a lot of customers said that when the batteries in their LED Solar Pathway Outdoor Lights had been fully charged they would last most of the night hours.
"Good value for the price" – customers commented about the value that they received with these lights at an affordable price.
Cons
"Not very durable" – there were a few comments from customers about the quality of these lights. Some said that the plastic anchors broke a lot.
"They just stopped working" – a few people commented that their LED Solar Pathway Outdoor Lights just stopped working one day. This was not the consensus viewpoint.
"Only a few hours of light" – a number of customers were disappointed about the short time that a fully charged battery would last during the night hours.
5.
Maggift Powered LED Garden Lights 
This is another set of outdoor solar Lights in the budget category. These lights are available in 8 packs. These have a lantern design and will provide a reasonably bright light that is warm. Some would call this "romantic" solar garden lighting and if that's your thing then these could be for you.
You can easily install the Maggift Powered LED Garden Lights in your garden, your patio area, your walkway or driveway – in fact pretty much anywhere. The lights are made of plastic but they are reasonably durable. The plastic spikes can break so make holes in the soil first before you install them.
In our tests we needed more than 8 hours of direct sunlight to fully charge the batteries. The manufacturers claim that you can get up to 10 hours of light from a fully charged battery but we were only able to get around 7-8 hours. Still pretty good though.
There are 8 LED's in the lights and they are 11 inches in height by 2.32 inches wide. The lights are marked as water-resistant and should withstand frost, snow, and rain. The Maggift Powered LED Garden Lights performed well and represent very good value for money. They are made of plastic but the lantern look is quite appealing.
Pros
"Really easy to assemble and install" – a lot of customers were happy about how easy it was to assemble and install these garden solar lights.
"These lights make a beautiful pattern" – the lantern-type pattern was a hit for a lot of customers.
"The brightness is good" – a number of purchasers remarked on how bright these Maggift Powered LED Garden Lights were.
Cons
"They just don't work" – a couple of customers complained that they had been charging the batteries of these lights for a number of days and they still did not illuminate at night. This was not the majority view.
"Lights were damaged" – one or two customers received defective lights when they arrived at their homes. These would have been replaceable and it wasn't an experience that a lot of people had.
Things to consider when buying solar garden lights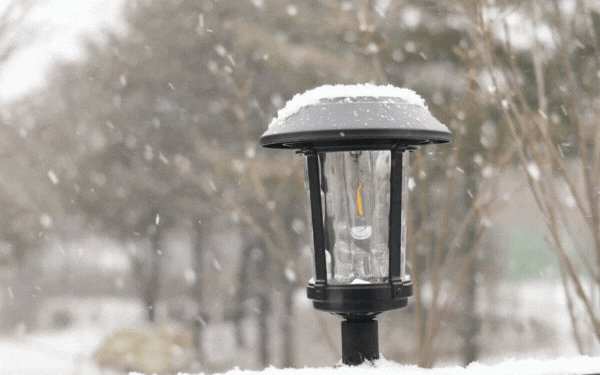 Are you thinking about solar garden lights but not sure what to look for? Here are the main things to consider when making your purchase:
Solar panel quality
The solar panel is responsible for converting sunlight into electrical energy that powers the light. A high-quality solar panel will be more efficient at converting sunlight into electrical energy, which means the light will run for a longer period of time on a single charge. Additionally, a high-quality solar panel will be more durable and weather resistant, so it will last longer.
There are a few things to look for when you're trying to determine the quality of a solar panel:
The size of the panel: A larger panel will typically be able to produce more power than a smaller one.
The type of cells used: There are two main types of cells used in solar panels, monocrystalline and polycrystalline. Monocrystalline cells are made from a single crystal of silicon, while polycrystalline cells are made from multiple crystals. Monocrystalline cells are generally considered to be of higher quality because they're more efficient at converting sunlight into electricity.
The warranty: A good warranty is always a good sign when it comes to electronics like solar garden lights. A longer warranty means that the manufacturer is confident in its product and stands behind it.
Battery type and capacity
The most common type of battery used in solar garden lights is a lead-acid battery. These batteries are typically the least expensive option, but they also have the shortest lifespan and require the most maintenance.
Nickel-cadmium (NiCd) batteries are another option for solar garden lights. NiCd batteries tend to be more expensive than lead-acid batteries, but they also have a longer lifespan and require less maintenance.
Lithium-ion (Li-ion) batteries are the most expensive option, but they also have the longest lifespan. Li-ion batteries are quickly becoming the preferred type of battery for solar garden lights due to their superior performance.
Light output
How bright do you want your lights to be? Do you want them to provide enough light to see in the dark, or are you looking for something more subtle that will provide a gentle glow?
There are a few different things that affect light output, including the number of LEDs and the type of batteries. The more LEDs, the brighter the light will be. If you're looking for really bright solar lights, look for ones that have at least 10 LEDs. The type of batteries also makes a difference. Lithium-ion batteries tend to provide more power than alkaline batteries, so they will produce brighter lights.
Weather resistance
You want to make sure that the lights you purchase can withstand whatever Mother Nature throws at them. Look for lights that are made out of durable materials like metal or plastic and that have a waterproof sealant.
Another thing to keep in mind is the size of the solar panel on the light. The larger the panel, the more light it will be able to produce. If you live in an area that gets a lot of sunlight, then you won't need as large of a panel as someone who lives in a more shady area.
Installation
While most solar garden lights are designed for easy installation, some can be more difficult than others. If you're not comfortable with installing electrical products, it's best to choose a solar garden light that comes with everything you need for a quick and easy install.
Fortunately, most solar garden lights are relatively easy to install. Many simply require you to stake them into the ground, while others may need to be attached to a wall or other surface. In either case, installation should only take a few minutes per light.
Customer service and support
Make sure that the company you're buying from has a good reputation for customer service. This can be done by reading reviews online or talking to people who have purchased solar garden lights in the past.
Many companies offer a limited warranty on their products, so it is important to read the fine print and understand what is covered.
FAQ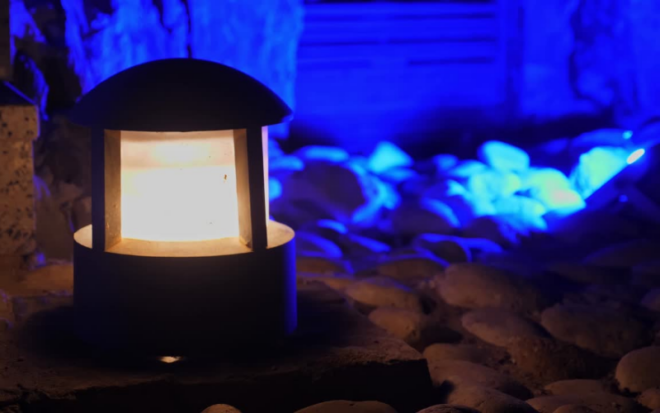 How to clean solar garden light solar panels?
Use a soft cloth or brush to remove any dirt or debris from the surface of the panel.
Clean the panel with mild soap and water solution if it is very dirty.
Rinse the panel with clean water and dry it off with a soft cloth.
Repeat these steps as needed to keep your solar panel clean and working properly.
How many lumens do you need for bright solar lights?
For walkways and paths: 50-200 lumens
For gardens: 200-400 lumens
For driveways: 400-600 lumens
Is it OK to leave solar lights out in the winter?
Yes, solar lights are designed to work in all weather conditions, including winter.
However, If you live in an area with long, dark winters, it's probably best to bring your solar lights inside until springtime. But, if you live in a milder climate or get plenty of sunny days even during winter, leaving your solar lights out shouldn't be a problem. Just make sure to check them occasionally to make sure they are still working properly.
Conclusion
Solar garden lights are a great way to add some extra light to your garden without increasing your energy bills. We hope that you find the perfect solar garden lights for your home and enjoy using them for many years to come.
Summing Up
We hope that you found our outdoor solar Lights review informative and are now ready to make a purchase.
The top solar garden lights in this review really are the best when it comes to style, performance and cost.
Go for the Gigalumi Solar Garden Lights if you want high quality and a choice of colors.
If the brightness of the lights is important to you then we recommend the SolarGlow Stainless Steel LED Solar Garden Lights.
If you are on a budget then the Maggift Powered LED Garden Lights are the ones to choose.
If the choices we gave you weren't enough, take a look at the following list and find some other interesting options for your garden or pathway:
Sale
Outdoor Solar Garden Lights 3 Pack, 120 LED Copper Wire Light with Remote, 8 Lighting Modes...
[Creative Outdoor Solar Garden Light] DIY your favorite shapes, such as flowers, trees, fireworks, ferris wheel, heart, spiral, spherical. I believe you have a better idea to make a more novel shape for this solar garden light and share it with your family friends and other buyers.
[Upgraded Solar Panels & 8 Modes] Outdoor solar garden lights with upgraded solar panels will automatically charge during the day and automatically glow at night and have a longer battery life. It can perfectly decorate your beautiful home without paying electricity bills. 8 luminous modes, Combination, in wave, sequential, slo glo, chasing/flash, slow fade, twinkle/flash, and steady on.
[IP65 Waterproof and Durable] Our garden lights adopt IP65 waterproof grade, made of durable copper wire with 120 lamp beads. Solar path lights have good waterproof performance, so there is no need to worry about rain, snow, frost or sleet.
[Perfect Choice] DIY garden lights are the best choice for your neighbors and friends, if you give it to your friends or family on holidays or birthdays, they will be surprised by your creativity and will love them. These solar fireworks lights are suitable for decorating gardens, backyards, sidewalks, flower beds, lawns, terraces, weddings, parties, etc.
[Easy to Install] Everything is packed in the packaging. No other installation tools are required. Just connect the light beam and the light body, then insert the light into the ground, and then turn on the solar panel button or remote control switch.
SUNNYPARK Solar Pathway Lights Outdoor, 6 Pack Solar Garden Lights, Color Changing LED Landscape...
CREATIVE VERSATILE DESIGN :This outdoor solar lights can be removed and the lamp head is designed to sit nicely on any flat surface. Use them for your table, steps, balcony, pool fence or anywhere!
LED LIGHTS: Color changing LED light for illumination and 6 constantly colors LED for decorating your garden or pathway.
DIMENSIONS: 2.36 x 2.36 x 14.17''. Perfect for decorating in garden, Pathway and outdoor.
BEAUTIFULL SHAPE: A very attracting diamond cut solar landscape light. These solar lights look beautiful during the day but the stunning design makes them look fantastic at night when light up.
ECO-FRIENDLY: The solar pathway garden lights are powered by the sun and light up automatically at night, they will stay on for up to 8 hours if fully charged and even longer using sometimes.
Flickering Flame Solar Pathway Flame Lights - Solar Lights Outdoor Torch Waterproof LED Metal...
Solar lights outdoor: pathway lights solar powered, stainless steel waterproof, stands like wind, frost, rain and snow all weather, Turns on/off automatically from dusk to dawn
Best solar lights: Large solar lights with flickering flame 8 ft tall and 5-8 years of super long use time win any tiki torches on the market.
More stable: Outdoor flaming solar garden lamp torch lighting is EASY TO ASSEMBLE, which can be adjusted to three heights of adjustable 23", 39", 55" according to your preferences with only two hands.
Upoom gardeen solar lights: The Solar Flame Flickering Light flashes the flame glow effect, as a safe alternative to true flames bring you amazing visual enjoyment. and the atmosphere is simple. The design is more suitable for weddings, parties, home gardens, all festivals, and can be more easily matched with other decorations
Professional after-sales service: solar flame torch lights and other accessories can enjoy unfunded Refund or replacement can be within 30 days
Sale
ROSHWEY Solar Outdoor Lights, 22 LED 700 Lumens Bright Solar Lights Outdoor Waterproof Landscape...
【Design & Light Sensored】- ROSHWEY solar lights are powered by free solar energy, no wiring or external electricity required. The solar spot lights outdoor have a built-in light sensor, which can automatically light up at night and recharge during the day. The spotlight with 22 LEDs illuminate 8-10 hours at night after 6-8 hours full charged under the sunlight. (Lasts about 3 hours in winter)
【High Efficient Solar Panel】- This solar spotlights adopted monocrystalline silicon solar panel with a solar conversion rate of up to 21%. 90° adjustable lamp heads and solar panels can also be rotated 360° to adjust their orientation in different seasons and locations.
【Weather Resistant】 - These solar outdoor lights are made of high-strength, fracture-resistant ABS plastic. Facts have proved that the IP65 waterproof grade can withstand the bad weather, such as sunny, rainy, and snowy days. We offer Quality After-Sale Service.
【2-In-1 Installation】- Ideal landscape lights or wall and pool fence lights. Just insert into the ground with the included ground stake or install on the wall with the included screws and wall bracket. Hassle-free installation, convenient, and portable. Perfect for house, porch, pool, yard, garden, driveway, pathway, etc.
【WORRY-FREE PURCHASE 】- Replacement & refund due to product quality problems are provided in 365 days. If there are any questions about our outdoor solar lights, please feel free to contact us, we will help you solve it as soon as possible. NOTICE: Strong sunlight and weak sunlight will cause different charging efficiency, so the lighting time in winter may not be as long as in summer.
Sale
Solar Lights Outdoor Decorative,10 Packs Solar Pathway Lights,Solar Outdoor Lights,Outdoor Solar...
【Luxury Gift Idea Garden Solar Lights 】This set of garden lights converts sunlight collected during the day to energy saving lighting in the evening. It is idea for garden, driveway, yard, patio, walkway lighting.Solar garden lights are also ideal gifts for housewarming and gardening.
【Long Usage】StarGinz outdoor pathway lights are equipped with a 2V, 100mA solar panel and built-in 1.2V, AA, 300mAh NiMH battery. The battery fully charges by solar power during the day, automatically turns on at dusk, and lasts for 6-8 hours before needing to recharge.
【Supper Durable 】Each solar outdoor light is water resistant, made from IP44 waterproof design provides ,making it very suitable for outdoor use, without worry the damage of bad weather such as rain and snow.They are perfect for lining your home's walkways, pathways, garden, deck, patio and more!
【Easy installation】Garden lights can be assembled manually without any tools. When finished, It can be used by inserting into the ground.
【Gift Idea Garden Solar Lights 】 It is idea for garden, driveway, yard, patio, walkway lighting.Solar garden lights are also ideal gifts for housewarming and gardening.
MAGGIFT 6 Pack 25 Lumen Solar Powered Pathway Lights, Super Bright SMD LED Outdoor Lights, Stainless...
[Solar Powered Path Lights]: Maggift warm white pathway lights 6 Pack powered by solar are the perfect decorative outdoor lighting and no electricity required. They are charged in full and direct sunlight for 6-8 hours, the lights automatically turn the lights on at dusk and off at dawn. Measures: 5.5 x 5.5 x 15.8 inches.
[25 LUMEN Super Bright]: Light brightness is 25 lumens, which is 10 X BRIGHTER than general solar garden lights. Warm white high brightness SMD LED and lampshade reflector which allow light to flood the space, whilst creating beautiful shadow patterns on the ground. Add a charming, decorative glow to your pathway, decorate your garden, porch or yard.
[Weather Resistant]: The outdoor solar lights are made of high quality STAINLESS STEEL, glass and thick plastic, no need to worry about rust. Suitable for outdoor use, the light can work normally under all kinds of weather with the waterproof rating of IP44 and weatherproof, no worries about rain, snow, frost, or sleet (except rainstorm).
[Easy to Assemble and Install]: NO WIRES. These solar garden lights can be done in a few minutes. Just connect the parts and stake into the ground where there is sun shines. For your convenience, we provide the 3.2V 450mAh rechargeable battery.
[Tips]: There is a tab on the light cover, please remove it before charging.
Sale
KOOPER Outdoor Solar Lights, 4 Pack Solar Garden Lights with Bigger Lily Flowers, Waterproof 7 Color...
☼UPDATED SOLAR OUTDOOR LIGHTS : 4 pack outdoor solar garden lights have bigger lily flowers made of fine processed fabric. Adjustable stems and leaves make you freely design their pose as you like, creating a romantic atmosphere for your garden. (White & Pink & 2 purple)
☼HIGH-EFFICIENCY SOLAR PANEL: Bigger solar panel is made of monocrystalline silicon which has the highest photoelectric conversion efficiency of all kinds of solar cells. Built-in 1.2V/600mAh Ni-MH AA battery. Solar flower lights can work 8-10 hours after fully charged.
☼COLOR CHANGING & NIGHT SENSOR: Solar lights outdoor waterproof automatically light up in the dark to illuminate your garden and pathway. Garden decor lights with 7-color changing can create a romantic atmosphere of any occasions, whether it is for a backyard event, or just the finishing touch on your outdoor masterpiece.
☼HOLD UP IN BAD WEATHER: Solar lights have been proved can withstand bad weather. Waterproof class is IP65. Do not need to worry about the solar outdoor lights in bad weather.
☼QUALITY SERVICE: Our friendly customer service team would be happy to solve your issue within 24 hours. Please be confidence with our solar garden lights!
Sale
LEREKAM Solar Spot Lights Outdoor, IP65 Waterproof 40 LEDs Solar Landscape Spotlights,USB & Solar...
Cool White Solar Spotlights Outdoor: A nightly light show! Automatically can come on when it gets dark. Really added life to Your trees and Lights up your landscaping nicely.Brighter 40 LEDs with wider 360° lighting angle & 120° adjustable bigger solar panel & longer working time with rechargeable battery. LEREKAM solar landscape light is much more durable, Across to light up a larger area and perfect brightness, perfect color compared to other 4-12 LED lights in the market.
3 Brightness Lighting Modes: LEREKAM 40 LEDs solar outdoor spotlights, high light mode/medium light mode/low light mode (8-15-25hrs). LEREKAM solar garden lights can automatically detect changes in the brightness of the external environment. When the brightness is low enough to require illumination, it will automatically switch from energy storage mode to lighting mode without motion detection (auto on at night /auto off at sunrise). Could easily be used as a flashlight in a pinch.
Power Supply-Solar Powered & USB Charger: Other solar spotlights do not charge is cloudy weather so they are really spring/summer lights. You would not depend of them during the winter. But our LEREKAM solar spot lights outdoor support power supply: "Solar Powered Or USB Charge". LEREKAM outdoor solar lights have unique IP65 waterproof design and can withstand all kinds of terrible weather.Being freeze resistant helps in the brutal cold Chicago weather.
2 in 1 Function & 2 Installation Options: Easy to install. Stick into the ground with stakes & Mount on the wall with the screws included.The solar spot lights outdoor are greatly used as landscape lighting or great for lighting up trees.You can aim up to light a tree or flag or across to light up a larger area. Optimum for Porch, Path, Pool, Yard, Garden, Garage,Driveway, Pathway,etc.Your landscape looks spectacular at night time with LEREKAM solar lights outdoor practical landscape lighting
Landscape Garden Light: Dusk Till Dawn.You have no need to run your wired lights.Used the LEREKAM spot light outdoor to uplight your palm trees and agave etc. solar spotlights outdoor are greatly used as landscape lighting or great for lighting up trees. No matter it rains, snows,high frost,high heat Or other extreme weather,you can use the landscape lights at ease.You charged spotlights for 2 days in direct sunlight, prior to using. Go ahead do yourself the favor and add these to your cart.
Biling Solar Spot Lights Outdoor, Bright 700 Lumen Solar Outdoor Lights IP67 Waterproof Adjustable...
Upgraded Solar Spotlights Outdoor 3000K warm white light, brighter than original 2700K warm white light.
💡Bright Solar Powered Outdoor Lights - Each solar spotlight is made of 12 LED Bulbs, Can output 700lm bright light at night. The solar uplights will automatically turn off and charge the battery during the day, turn on at night to light up your way. No more cables and electricity needed.
💡Easy to Assemble and Install: It takes less than a minute to assemble a spotlight. The lights use solar energy and do not need to be wired. You can install them in yard, pathway, garden, and anywhere else that gets sunlight during the day.
💡IP67 Waterproof Design - Made of high quality ABS and IP67 Waterproof technology, our solar spotlight can withstand various of weather such as rain, snow, frost, heat. Great solar light for outdoor use.
💡Two Lighting Mode - Change the lighting mode by single button, press the button and solar spotlight will change from OFF to low light mode(350Lumen) to high light mode(700Lumen), you can choose suitable brightness for your home. The solar spot light can work 10-15h on low light mode and 8-10h on high light mode.
4 Pack Solar Outdoor Lights Decorative, Colored Solar Garden Flowers Lights Outdoor Waterproof for...
🌸【Upgrade Solar Garden Lights】Outdoor Jack & Rose Solar Lights come with 20 high-quality beautiful cherry blossom LED lights with higher brightness and more vivid colors. Upgraded wider solar panels convert sunlight into power faster and more efficiently in cloudy weather, and energy-efficient built-in batteries maximize lighting time.
🌸【Adjustable Stand】The flower stem is supported by iron wire, which is super flexible and durable, and can be bent into different angles and styles, so it is easy to place inside the plant. Colorful solar garden decorative lights are a great addition to a fairy garden. You'll get compliments from your neighbors when it's lit up at night.
🌸【Automatic Lighting】This decorative solar garden light is charged during the day (make sure the switch is in the "on" position), and automatically turns on at night, up to 8-10 hours when fully charged. Ideal for lawn decoration and solar garden lights, suitable for gardens, road sides, yards, trees, flower beds, fences, lawns, trails, campsites, landscape street lights, etc.
🌸【Easy to use and waterproof】The Jack & Rose solar garden light is ready to use right out of the box. No additional tools are required to install this decorative garden stake. Whenever you want a beautiful patio decoration, just push this light into the ground and you can quickly install this solar flower. IP65 waterproof design ensures that the outdoor solar light can withstand all kinds of bad weather without worrying about sunny, rainy and light snow days.
🌸【Perfect garden decoration】The beautiful outdoor solar decoration has two lighting modes: steady and flickering mode. Perfect for decorating gardens, backyards, sidewalks, flower beds, fences and more. It is also a unique decoration for Christmas, Halloween, Thanksgiving.
Whousewe Solar Outdoor Pathway Lights 8 Pack - LED Landscape Garden Lights Solar Powered, Waterproof...
[ Unique Lighting Pattern ] - It's an ideal way to enhance the look of your lawn garden area. The specially designed honeycomb-shaped high-transparent lampshade allows light to fill the space while creating beautiful shadow patterns on the ground.
[ IP66 Waterproof & Premium Batteries ] - With an upgraded monocrystalline solar panel capable of converting solar energy to electricity on a large-capacity 1000mAh 1.2V rechargeable battery. It only needs 6-10 hours to be fully charged and provides 8-12 hours of working time to meet the night lighting needs. IP65 waterproof design provides excellent waterproof function, without worry the damage of bad weather such as rain and snow.
[ Easy to Install & Auto-On/Off ] - It can be assembled manually without any tools. No need wiring or digging,just assemble them together and place them! Above all else, sidewalk lights can be relocated easily. They automatically turn on at night and turn off at dawn by sensitively inducting the lightness of the surroundings.
[ High Quality Materials ] - The outdoor solar lights are made of high quality thick plastic, so the solar powered path light has a stronger anti-collision resistance. No worries about rain, snow, frost or high temperature. our upgraded ground spikes made of ABS plastic is equipped with a new design shape, providing better stability and sturdiness.
[ Widely Use ] - Our package comes with 8 pcs outdoor solar lights, so you can use it everywhere outdoor like garden, lawn, villa, pathway or yard etc. And the warm and gentle light helps to create a romantic and cozy mood which is good for both daily and holiday decorations.Lights up your way, Lights up your life.
Sale
CAITRAD Solar Watering Can with Lights Outdoor,Hanging Large Solar Lantern Metal Lights Decorative...
【UNIQUE DECOR】This twinkle star shower is the unique and nice decoration for garden,yard and outdoor.looking like a string of shining stars poured from watering can,watering can with lights shower head string lights sends a relaxing of water simulating a gentle rain.It can be in plant, window, furniture wait for surroundings to bend easily model.
【PERFECT GIFT】Lights through hollow-carved metal sheets is unexpected beautiful , bringing you fantastic feeling in your garden, patio, lawn and yard at night.You can decorate watering can lights on trees,flower,yards.It is perfect as gifts for Thanksgiving,Halloween,Christmas,weddings,birthday party and enjoy every beautiful evening with your family and friends together.
【EASY INSTALLATION】: Built-in light sensor,No wiring required. ON/OFF switch on the light cover, please open the switch before charging. The solar garden light will auto sensor, turns on automatically at night and turns off automatically at dawn. It approximately recharge about 6 hours and light 8 hours
【WEATHER-RESISTANT】:Outdoor Garden Lights Never worry about exposing the light to the rain or snow. The light can work normally under all kinds of weather with the waterproof rating of IP65 and weatherproof. Add delightful landscape lighting to your front door, lawn, patio, back yard or flower beds.
【GUARANTEE SERVICE】 It can make your yard more beautiful! If you are not satisfied with these solar lights,please feel free to contact us.We'll immediately help you solve the problem within 24 hours.Provide refund or replacement within 60 days.