Many people put up a flagpole outside their property to show their patriotic spirit and commemorate their country's heritage and history.
However, the flags are visible only during the daytime, and many put down their flags at night because nobody can see them. For those who want their flags to be visible 24 hours a day, there is an ultimate solution. What you need is to install the best solar flagpole lights. This incredible innovation will not increase your electricity bill because they are solar-powered.
There are two good reasons why you should buy a solar flagpole light – they are cost effective and eco-friendly. As the name suggests, these lights are designed to provide light to your flagpole and can be mounted or placed on the ground near the flagpole. It has a mechanism that collects the energy from the sun and converts them into electrical currents to light up the flagpole. Different factors can alter the intensity of light that it produces. It can be the amount of sunlight available or the size of the photovoltaic cells of the light.
What to Look for When Buying a Solar Flagpole Lights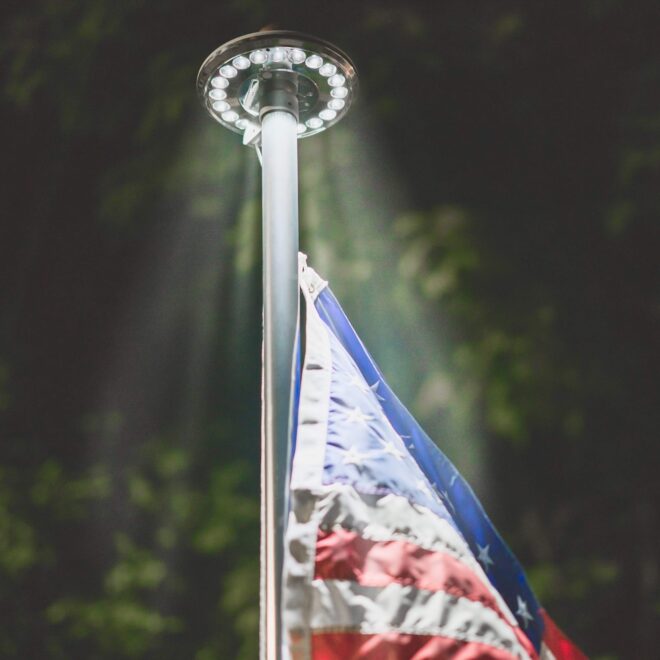 Flagpoles need to be weatherproof as they are typically installed outdoors and the lights are of course installed along with poles. There are plenty of things to consider when buying a flagpole light including the location of your home or establishment. You also have to think about the weather conditions in your area if it requires you to buy a special kind of light. Other than these, you might also need to consider specific features to find the ideal product for light your flagpole.
Here are some of them
Brightness of Light
Since the primary use of solar flagpole lights is to illuminate the flagpole, you have to choose the light based on how you bright it should be.
Overall Aesthetic of the Light
Another feature that you need to check is how the light will look when it is installed in the flagpole even during daytime. Solar flagpole lights can come in different styles and sizes. You can find one that will match your flagpole and make it look good.
Solar Cell Capacity
The solar cells are essential components of the solar flagpole lights that absorb the solar energy and convert it into electricity to power the lights. When the solar cells are enough to power the lights, you will have the desired brightness. You should also look at the size of solar panels that contain the cells. You have to consider also the design of the panels. They should be directly facing the sun so that is can absorb as much light as possible.
Size of the Flag and Flagpole
You need to consider the size of the flag and the flagpole too. If you have a bigger flag, it needs more light while a small installation will require just the right size. The most important thing is your light should illuminate the flag entirely. In addition, the light should fit perfectly in the flagpole for easy installation.
Mode of Installation
Generally, it is easy to install solar flagpole lights if it is the right size. When buying this item consider its compatibility with the intended flagpole. You also need to be able to take it down quickly in case you encounter problems while it is in use. There are also different mounting style, so you need to know the design of your flagpole to accommodate the lights.
Comparison Table

of the Best Solar Flagpole Lights
| Product Name | Rating | Weight | Number of Lights | Warranty | |
| --- | --- | --- | --- | --- | --- |
| Deneve Solar FlagPole Light | 4.2 | 1.45 pounds | 20 LED | 1 year | |
| Sunnytech 3rd Generation | 4.3 | 1.25 pounds | 20 LED | 1 year | |
| LBell 30 LED FlagPole Light | 4.5 | 1.1 pounds | 30 LED | 18-month warranty for quality-related issues and lifetime technical support | |
| TOTOBAY 30 LED | 4.3 | 13.6 ounces | 30 LED | 12 months | |
| Hallomall 48LED | 4.1 | 1.07 pounds | 48 LED | 12 months | |
This company takes pride in their product as the brightest, easy to install flagpole light that will last long. The design for this model is updated with a cutting-edge sensor that will detect when the right time to turn on the lights at night is. It also has bright 20 LED bulbs that can cover 20 percent more flag than any other flagpole light in the market. The solar panels contain more photovoltaic cells with an extremely long lifespan.
The AA batteries in this solar flagpole lights from Deneve are rechargeable and replaceable. Other solar flagpole lights will not allow you to do this and when the batteries reach the end of their life, you have to replace your solar flagpole completely. This brand and model lets you replace the batteries, which will allow you to save money and time as compared to disposing of the whole thing.
The light is compatible with 15 to 25 feet flagpoles and fits 5 feet wide flag.  It requires 0.5 inches thick for the shaft, and the length should be 1.5 inches long for this flagpole light to fit. Installation is quite easy for this solar flagpole light, as you only need to lower the pole and spin the ball and nut shaft into it. After you press the on- button, you can re-insert the ball shaft and nut into the holes.
After mounting and adjusting the unit into you flagpole, you only need to tighten the shaft, and it is ready to put a spotlight on your flag at night.
Pros
Features 20 LED lights
With an automatic sensor to turn the light on and off
Compatible with most flagpoles
20 percent more flag coverage
Cons
Offers no warranty
You have to replace the batteries quite often
This a beautifully designed product that is just the right solar flagpole light for small sized flags. Thanks to the saucer shape and largest size among its competition in the market today, what you will get is the brightest illumination. The light is shining directly into the flag removing shadow formations. This light is robust because of the powerful 20 pieces of LED bulbs encased powered by energy efficient solar cells. Its light is five times brighter than the leading brand in solar flagpole lights.
Sunnytech 3rd Generation Solar Flagpole Light has upgraded all its internal components including the solar batteries and the saucer design to absorb more sunshine and convert them into electricity. The electric circuits are also updated to provide more stability and a longer life. It also has waterproof components will make sure that it will not be damaged by the extreme weather condition even if it is left outside.
The ergonomic design of this solar flagpole light enables easy installation, and the sleek black color provides new aesthetic. Aside from the improved design of its batteries and solar panels, the lights are also bigger than other flagpole lights to allow brighter illumination for your flag. It also has a built-in sensor to allow automatic lights when it is dark and switches off when there is available natural light.
Pros
Larger size bulbs
More stable electric circuits and batteries
Beautifully designed
Efficient absorption of solar energy
Cons
Uses only 20 LED bulbs, can be more to give brighter illumination
No ornaments included
This LBell 30-LED Solar Powered Flagpole Lights is the most shining flagpole light due to the 30 LED bulbs. The color of the bulbs is in white, so it does not have a halo effect on the flag. The brand advertises their flagpole light, as the brightest and longest lasting illumination you need for your flag and let us see why.
To support its 30 LED bulbs, this solar flagpole light has built-in rechargeable batteries with the capacity of 2200mAh that can work a maximum of 10 hours when they are fully charged. Charging time is about 6 to 8 hours depending on the intensity of the sun's brightness. They are energy saving too as the automatically get loaded during the day, no need to worry about switching it on to charge. It has 11 big solar panels and additional photovoltaic cells to support bright illumination for the flag.
It can fit in a 0.55 inches thread hole and 15 to 25 feet flagpole. Installing this solar flagpole is very easy, and there are no extra tools required.  This flagpole light is made of durable materials and can fit most of the flagpoles available today.
One of the concerns about this flagpole light is the illumination that looks like a "flying saucer" however, contrary to their earlier apprehensions that the product will look weird on top of their flagpole during; it blends well with the whole thing. It lights the flag quite nicely at night.
Pros
More photovoltaic cells for higher efficiency
Brighter with 30 installed LED lights
Durable and easy to install
With bigger solar panels
Cons
No included warranty
Downlight illumination
This Hallomall 48 LED Solar Flagpole Light is perfect for a 15 to 25 feet flagpole topper is one of the most sought after product in the market today. This is from a company that is popular for commercial and consumer lighting so that you can expect nothing less from their product. This particular model is covered with an 18 months warranty.
You can mount this solar lighting for flagpoles of from 15 feet to 25 feet, and since this is a downlight, you have to place them at the end. At the top of this light are eleven pieces of powerful solar panels that get auto-charged during the day by collecting the energy from the sun and converting them into electricity. The 48 pieces LED bulbs are located at the bottom of the product so they can shine unto the flag.
Owing to its 48 pieces of LED bulbs, it can illuminate with brighter light. It is operated automatically with an automatic sensor that can detect the absence and presence of light. There is no need for you to turn it on and off manually.
Installing this Hallomall Solar Flagpole Light is also easy as it can fit any flagpole with 0.55 inches in thread hole. You do not need special wires or tools to mount them in the flagpole as long as it fits. It is also made from high-quality material so you can expect it to last longer.
Aside from being a flagpole light, this model is versatile as it can be a solar night light too. It can be perfect lighting for camping activities, courtyards, and roadside. It comes with a carabineer so you can hang them when using as a night light.
Pros
Suitable for flagpoles for 15 to 25 feet flagpoles
Bright with 48 LED Lights
Covered with 18 months warranty
Affordable compared to other brands
Cons
It may not give the curb appeal you are looking for due to the position of the illumination
This is another quality solar flagpole light option and always ranked among the best in every flagpole light review. It is made durable with the high-quality materials used, has 11 big solar panels and 30 ultra-bright LED bulbs to give a brighter and longer lasting illumination to the flag.
The powerful light is supported by the 2200 mAh and more photovoltaic cells than its competition. These 30 LED bulbs are ultra-bright and can work to a maximum of 10 hours in a single night when it is charged fully. With lighting this powerful, it can also illuminate porches, public places and many more.
This solar powered flagpole light is operated automatically using an auto-sensor that turns the lights off during daytime and turns it back on when the night sets in. It is also compatible with flagpoles of 15 to 25 feet in height and as long as the diameter does not exceed 0.55 inches. Solar charging is also not a hassle since it automatically charges during the day. For an added convenience, installation is also very easy.
The built-in light sensor and auto charging are the highlights of this product that makes it an excellent option for a reliable, efficient and cost saving flagpole light.
Pros
Built-in Sensor to switch the light on/off
Waterproof and resistant to varying weather conditions
30 powerful lights that shine directly to the flag
Battery is rechargeable
Cons
Flag topper design may not give you flagpole excellent impression
Downlight illumination may not be appealing to some
Conclusion
Mounting a flag in front of our home is a way to express patriotism. However, without lighting it will not be visible at night. Installing a spotlight that runs on electricity can be an addition to your energy bills. The good news is you can now have the solar flagpole lights to light your flags safely and without adding cost.
You can buy the best solar-powered lights for you flagpole by knowing the features to look for in them. If you want to have one for your home, you can consider the choices we have mentioned above. The best ones are sturdy, easy to mount, compatible with standard sizes of flagpoles, waterproof and weatherproof. Our selections cover a broad spectrum concerning features, price, and quality that will meet your requirements and enhance your outdoor lighting experience powered by solar energy.